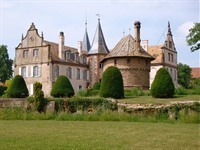 What is a Castle ?
Dating back to the Roman Empire after the conquest of Alsace by Caesar, the castle was part of intelligence measures to ward off Germanic incursions.
During the 12th century and onwards, Osthoffen became a fortified castle. Due to a siege lead by the Bishop of Strasbourg in 1410, fire raged through the building, depriving it of its 3rd floor.
An ancestor, the architect von Seebach, rebuilt the castle as a Rennaissance estate and a private dwelling, its military mission finally coming to a close after the Thirty Years War (1648).
More changes came about with the 18th century : courtyard walls were removed and new wide windows enlightened both the façade and the interior. The castle lost its towers during the French Revolution by order of the new authorities, one of the first works undertaken by the new owner was to rebuilt them.